Ivanhoe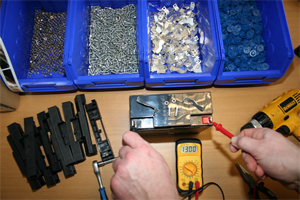 Faced with the choice of managing their entire business 'in house' (as in previous years) or 'outsourcing' to a third party logistics service provider – Ivanhoe confessed to harbouring concerns as to who they could trust with all the handling elements of their business. They chose Green Tree who now:-
look after the valued and potentially fragile goods.
manage FCL container imports and pick & pack orders via essential first in first out (FIFO).
understand and embrace the 'on demand requirements' at short notice.
manage cost-effective logistics around a growing customer base (each with specific needs of their own).
assist in all quality control systems and procedures.
present clear inventory control, scheduled reports & confirmation.
assertively deal with any non-conformances.
provide all of the above at a cost that did not outweigh the outgoings from taking on additional premises and labour.
These key requirements understandably felt like more than something of a 'big ask' yet without question remained essential in maintaining existing business and managing the growth of the business. Outsourcing to "Green Tree" matched all of these points with more to boot. "In truth we were reluctant to let go of the tight reins in fear of losing control of our operation, but at the same time our hand was being forced as demand was exceeding our capabilities (both in labour time and limited premises size at the time). "Green Tree" were clearly willing from the outset and our confidence grew quickly. We initially chose them as we recognised long term contracts were being carried out for Blue Chip Companies and the facilities were second to none. Their attention to detail combined with the 'one stop shop' approach won us over. Our decision to farm out our battery kitting operations, and link in stringent quality testing of our fast throughput AGM battery stock, was the right one. No question, we are truly delighted to have linked up with such a proactive, willing and able partner!" – (Operations Director)